Sa vie d'artiste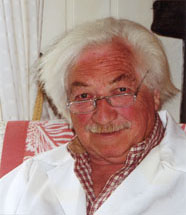 Roger De Coster, né à Bruxelles en 1934, très doué depuis sa jeunesse pour le dessin, fait ses études à l'Académie d'Ixelles. Il se lance d'abord dans la Bande Dessinée, pour son plaisir, puis réalise des impressions pour tissus pour la maison Legrand Frères.
A ses débuts, il réalise surtout des peintures figuratives, voire académiques, mais après un séjour prolongé en Arabie Saoudite, aux Emirats Arabes Unis, puis en Egypte, il accède à un tout autre genre, tantôt abstrait, tantôt surréaliste, suivant son inspiration, son humeur du moment, mais toujours avec la même technique qui lui est propre, et surtout, le même bonheur : en deux mots, la peinture est sa passion!
Its life of artist
Roger De Coster, born at Brussls in 1934, since his early childhood very gifted for free-hand drawing, followed his studies at the Academy of Beaux-Arts de Brussels. he did his first steps as an artist just for pleasure in strip cartoons, later he designed the printings of woven textiles.
When starting his career as an artist,he realises especially figurative paintings, even academics, but after an extended stay in Saoudi Arabia, United Arab Emirates and Egypt, he acceded to quite other kinds sometimes abstract, sometimes surrealistic following his inspiration, his mood or temper at the moment, but always based upon his personal technique and above all, the same happiness: in short, painting is his passion !
BIOGRAPHIE
1954- Premier prix à l'Académie d'Ixelles
1955- Premier prix Salon d'ensemble à Amsterdam
1958- Exposition d'ensemble, Maison de la Culture d'Ixelles
1980- Médaille de bronze des Artistes Professionnels de Belgique